May Edition of Hives Vibes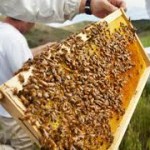 Hive Vibes
Newsletter of the Appalachian Beekeepers
VOL VIII… May 2013 …No. 4
Meeting the First Monday of Each Month
7 p.m. at Mountain Folk Center (formerly Industrial Park)
65 Folk Center Circle, Murphy, NC 28906
President's Corner
At long last, we are past the cold weather and into spring! Hopefully now the bees will really start getting a move on.
I'm not sure who else has noticed, but the locust trees are blooming very well this year. This is the first time I've ever really looked for them. The flowers are fairly prolific on the trees. You can see lots of locust along the highway on the drive from Andrews to Murphy.
A few years back, a co-worker told me that some of the old-time beekeepers use to try to time the locust nectar flow the same way we usually time the sourwood nectar flow. The bees would not be able to make too much honey off of the locust because the time window was so narrow, but they could make some. The beekeepers would keep that honey for themselves as a special treat. Locust honey is actually pretty common in the mid-west: Illinois, Indiana, etc. My wife grew up with locust honey as just a normal thing.
In club news… remember there are three volunteer possibilities out there for everyone:
1.) The biggest thing is the Ag Day for the county schools on Monday the 20that the Mountain Folk Center from 9 A.M. (ish) until 2 P.M. All of the 7th or 8thgraders on the county will be there. Thank you to those of you who are going to be there. Wish I could make it, but I'll be out-of-town. If anyone else wants to help, please feel free to show up!
2.) Tractor Supply is going to have an Animal/Pet Day this Saturday (May 18th) from 10-2.
3.) Thank you to everyone who is helping mentor Brionna, our Protégé, as she gets used to her bees! Several people have already volunteered to help mentor for a month. There are still a few months in the fall that we could use some help with. I also wanted to thank everyone who has invited Brionna to see their hives. There is probably no better way for someone to learn their way around the hive.
Remember that our June 3rd meeting will be a cookout/social event. We have a picnic pavilion reserved from 6:00-8:30 P.M. over next to the Pool & Wellness Center in Murphy. The pavilion is basically between the playground and the old rock gym – right next to the river! If you are planning on coming and want to know what to bring then please give me a call and I'll check the list with you.
Until then, keep an eye on those hives (one of mine tried to swarm just a few days ago)!
Zack
From the Door Prize Committee Chairperson: Just because we now have a budget, does not mean I don't need contributions from members for the door prize table.
Fred
Note from your Treasurer: If you have not paid Club dues for 2013, this is the last issue of Hive Vibes that you will receive. If you want to maintain your membership and continue receiving Club information mailings, please send your dues to me right away at the address at the end of the newsletter. Don't miss out!
Joyce
Minutes of Meeting on May 6, 2013
Meeting called to order by President Zack Stockbridge. There were 27 people in attendance.
Secretary's Minutes
– Kay Cameron read minutes from April meeting. They were approved as read.
Treasurer's Report —
Given by Fred Bernhardt. At the beginning of the month there was $554.38 in the treasury. $207.36 was spent for hats., leaving a balance of $347.02.
Hats are now Available!
Zack brought club hats to the meeting. They are the same color as the T-shirts and have the same logo. They are on sale for $14 per hat. The club nets about 25 cents per hat. There are still club T-shirts available. Wear your club attire and advertise our club and your honey!
Protégé Report
. Our club's protégé, Brionna Sparks, said that her hives were doing well. She found 2 hive beetles and was going to be proactive about them.
Call for Volunteers
– Zack asked for volunteers for 3 activities:
1) Mentoring our protégé for a month. The Ackerman's volunteered for June and the Cameron/Gray's volunteered for July. We need sponsors for the rest of the months. Please volunteer by calling Zack and letting him know what month you can mentor.
2) Tractor Supply's Animal Day on May 18th – Our club could man a booth between 10 and 1 on Saturday. Whoever goes could show our training hive and could sell their honey. A couple members said they would think about it.
3) Cherokee County Public Schools Agriculture Day on May 20 at the Mountain Folk Center – It would be great if our club could have 2 people talking about bees to the Middle School students. Larry Stalcup said he had bees that could be used for an observation hive for the day. Again, a couple members said they may be able to do it.
Newsletter quiz
– Four members answered Fred's question correctly on what a corbicula is. Zack's name was drawn from the hat and he received 4 extra door prize tickets.
Discussion From the Floor
– Fred Bernhardt asked if anyone would consider sharing the expense (around $50) of a nematode order. The nematodes are effective in killing hive beetle larvae. Anyone interested should contact Fred Bernhardt.
Fred Bernhardt's suggestion about sharing a subscription to Bee Culture magazine was met with mixed reviews. Sharing a magazine by passing it around at meetings may not be workable. Someone suggested that the club pay for a subscription at a library where it would be easier to share the magazine. No action was taken.
Publisher's note: The Club did provide magazine subscriptions to the Murphy and Andrews libraries several years ago, but it is doubtful that the libraries renewed the subscriptions.
Zack said he lost some bees due to a swarm from one of his better hives. April and May are months when lots of swarms occur. You can possibly catch swarms from your hives by using swarm attractors – containers with certain pheromones placed near your bee yards.
Jeff Mansker asked how other people's bees are doing because he is not happy with the bees from his new packages. They seem weak, large, and not producing much brood. No one else at the meeting had similar complaints.
Chances are good that we will have a great Tulip Poplar season this year. The weather cooperated by not having a late frost.
Snacks – Thanks to Brionna for the delicious snacks. And thanks to Jeff for also bringing some banana bread and some delicious honey.
Door Prizes
– Drawings were held for door prizes. Both Peter and Bob selected the Honey Bee Healthy containers. Zack selected the smoker fuel and Tom took the $10 Gift Certificate from Wayne's Feed Store. Great door prize selections! You need to be at the meeting to win! Plan to attend!
Next Meeting
—It's Picnic Time! Our next meeting will be a picnic. It will be at 6:00 p.m. in Konehete Park. Zack will notify everyone when the reservations are made. Tom Handford volunteered to man the grill. A sign-up sheet was passed around at the meeting and people volunteered for what they would bring. Bon Appetit!
If you think an apiary is a place where Silver Back gorillas live, you might not be smarter than a beekeeper.
If you think comb in a jar is something your barber keeps on his shelf, you might not be smarter than a beekeeper.
If you think photosynthesis requires a digital camera, you might not be smarter than a beekeeper.
If you think pollination is a country where everyone is named Polly, you might not be smarter than a beekeeper.
If you think a honey house is only legal in Nevada, you might not be smarter than a beekeeper.
If you think propolis are what makes planes fly, you might not be smarter than a beekeeper.
If you think an extractor is a piece of farm equipment your wife got in the divorce, you might not be smarter than a beekeeper.
—————————————————————¨ ¨ ¨ ——————————————————————————
MISCELLANY
BEEKS: Affectionate slang term for beekeepers.
The HONEY BEE is the only insect that produces food eaten by man.
Vitellogenim: latin vitellen+genesis–"origin of yolk" A protein that is in the queen and workers but not in drones. Its level has an effect on life span.
—————————————————————¨ ¨ ¨ ——————————————————————————
ANSWER TO LAST MONTH'S CONTEST
Corbicula – the pollen basket on a honey bee's hind leg. Neo-latin for "little basket".
Seven people submitted answers. Four were correct. Zack's name was drawn to receive the prize of 4 door prize tickets. He did win a door prize. Congrats!
—————————————————————¨ ¨ ¨ ——————————————————————————
Measuring the Buzz in the Hive
Alan Harman
UK scientists say coffee breaks help improve a honeybee's memory and may help the plant recruit more bees to spread its pollen.
In tests, honeybees feeding on a sugar solution containing caffeine, which occurs naturally in the nectar of coffee and citrus flowers, a Newcastle University team found the bees were three times more likely to remember a flower's scent than those feeding on just sugar.
—————————————————————¨ ¨ ¨ ——————————————————————————
Neonicotinoids Killing Bees
One of our members, Suzanne Deslauries, thought this would be of interest to members:
http://www.beecharmers.org/Pollination2.html
—————————————————————¨ ¨ ¨ ——————————————————————————
The Shook Hive"
This is not named after Mr. Shook. It is more like Elvis Presley. This technique for stimulating a colony should create a fair amount of discussion.
You have a colony on the verge of swarming. Sometimes you can't stop the swarming urge and you wind up loosing the swarm creating a weakened colony left behind. So, go ahead and create a simulated swarm.
Get another hive body, top and bottom board ready to go. Set the new hive 20-30 feet from the full colony. This can be done as close together as the other end of the row of hives within the bear fence of you apiary. Smoke the dickens out of the full colony. You can just about barbeque them. Let the colony set for 10 minutes and smoke them again. Let them set for another 10 minutes. Smoked bees engorge themselves with honey. Bees getting ready to fly away in a swarm also engorge themselves with honey.
Find the queen. Remove the entire frame she is on and place it in the center of the new brood box. For now you don't need any other frames in the new brood box. However, have them ready. These other frames can be foundation or a mixture of drawn comb, but you do not want comb with honey and pollen in it. This new brood box is going to simulate a hollow tree that the swarm will arrive at. You want the new location to need lots of work. You have spent another 15-20 minutes doing this work. Smoke the hive a little bit again. You want the bees to be as engorged as possible.
Take the frames from the loosing hive one at a time over to the gaining hive and shake all the bees off into the new hive body with the queen. Start with the outer frames that probably have honey and pollen in them. Leave the frames with brood on them in the old hive. You want to move about 60% of the bees leaving lots of young nurse bees to tend the capped brood. Remember that all the foragers will still be returning to the original hive. You would be lucky if you moved 50% of the flying bees to the new colony. You want to move lots of bees but not too many. Can I be any more specific?
Place some frames in the new hive. You can do any number of frames but at least 5. If you place one pulled comb frame next to the queen, that will help her have a place to lay eggs.
You want all the honey that the engorged bees moved to the new hive to be used to pull comb. That is what the bees will do if they have moved into a new home after swarming. You will be surprised at how fast this new colony will pull comb. Think about how fast a package pulls comb. This process works a little more smoothly than a package because the queen is laying well.
You can put a feeder on the new hive or not. If there is a good nectar flow going on you can just let the bees act naturally. After the hive is settled in (3-5 days) you can add pulled comb (with or without honey) and it will not disturb the colony.
One of the main advantages of the "Shook Hive" is to make new comb real fast.
The old hive will draw a new queen. If you want to keep the old hive performing to the max you can introduce a queen. Even if there were no queen cells left behind, the old colony will start drawing queen cells in 3 days. If you have new queens in other hives, you can move some of the frames with queen cells from the old hive to the needy hive.
If your shook hive is your champion queen, this is a good way to quickly get strong daughter queens that you can use in the needy hives.
If you are a bold beekeeper and have the time (correct time of the nectar flow) that you want to play with a shook hive, it is interesting to see what happens.
If you only have one hive and you want to go into the winter with 2 pretty strong hives, the shook hive gives you the opportunity to make a split and stimulate the new hive to work harder than just moving half of your bees to a new box. Wait until you rob the honey off your hive. This will create a situation where there are too many bees in the remaining space and the queen will start thinking about swarming. The shook hive helps the queen make up her mind about what to do without her stopping egg laying.
Let's try to patronize member-owned businesses and local supportive businesses whenever possible.
Andrews Veterinary Hospital     David Ackerman     828/321-3316     1575 Main St., Andrews, NC
Candy Mountain Farm                 The Juhlins         828/494-2083     135 Candy Mountain Heights, Murphy, NC
Waynes Feed Store                                                 828/837-2139     869 Andrews Rd, Murphy, NC
Officers
President: Zack Stockbridge         Vice President: Larry Stalcup
Secretary: Kay Cameron             Treasurer: Joyce Bernhardt
———————————————————————————————————-
If you have an interest in bees/beekeeping, we hope you will join us and enjoy meeting
and talking with others who share your interest.
———————————————————————————————————–
Membership Application For Appalachian Beekeepers
Date:________________ Individual/Family-$12
Name ……………………………………………………………………………………
Address …………………………………………………………………………………
City, State, Zip ………..………………………………………………………………..
Phone…………………….…………… Cell……….………………..………………….
E-Mail …………………………………………………………………………………..
How did your hear about our Club? ……………………………………………………………….
……………………………………………………………………………………………..
Mail to:
Joyce Bernhardt, 325 Rolling Oaks Rd., Murphy, NC 28906
#
—————————————————————————-
RECEIPT
Date……………………..…… Amount $…………………
Received from …………………………………………………………………..
For Membership dues prorated from date above to following April 1.
Signed
: …………………………………………………………….