Tables, Coolers, Canopies Available for Promotion of Local Food Markets!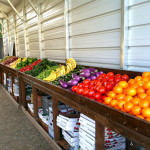 The Health Dept has some equipment available for those that sell roadside, through farmers markets or on farm. If you need any of this equipment, contact Sara Wilson at (828)837-1212 or if you have any further questions.
Farmer's Market Supplies
Free Items Available:
·         Igloo Glide-Pro Cooler (110qt. with telescoping pull handle and wheels; white; 19.7"highx 18.6" wide x 39.6" deep)
·         Portable Tables (6' long; steel legs; poly/molded top; 24lbs)
·         12'x12' Canopies (Black/white checkered; storage bag; 37lbs)
·         Sandwich Board (36" high x 24" wide x 2" deep when closed; white poly)
Application Process:
FM Supplies will be distributed on a first come, first serve basis. Each interested vendor must complete and submit an application form to the Cherokee County Health Department by the close of business on Friday, May 17th. Applications can be submitted by hardcopy or electronically. Supplies are limited and will be given out until unavailable. FM Supply Applications may be obtained via email from Sara Wilson of  Cherokee County Health Department (contact info listed below) .
Applicants will be notified on May 24th and supplies picked up can be scheduled for the next week. Distribution location to be shared at time of award notification.
Supplies are to be used solely for the purpose of the individual's use at farmer's markets, roadside stands, and/or CSA's. They are not to be used for personal events (ie, birthday parties).
Criteria:
Applicant must be a Cherokee County resident, grower, and participant of the local farmer's markets, roadside stands, or CSA's.
*For Application please email: sara.wilson@cherokeecounty-nc.gov with Subject: FM Supplies Application*
Please contact Sara Wilson at (828)837-1212 if you have any further questions.