"Small Farms Conference" Being Planned for April 30th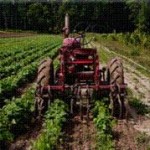 Extension will hold a Small Farms Conference on Tuesday, April 30, 8:00-1:00, at Truett Baptist Camp in Hayesville. The conference will consist of multiple breakout sessions directed towards education on Backyard Poultry, Grassfed Beef, Tree Fruit & Small Fruit Production, Agri-Tourism Opportunities For Your Farm, Raising & Selling Ornamental Plants and Organic Gardening.
The purpose of this program is to encourage participants who are interested in producing farm products for sale, or who have a small space suitable for production. Extension's goal is to provide you with the education and inspiration needed to help you produce and market farm products for yourself. Sessions will include information on production practices as well as marketing products.
More information will be provided as the program is finalized.