Master Gardener Training Offered
The Cooperative Extension Offices of Cherokee Clay and Counties will be offering a
Master Gardener Volunteer Certification training beginning Monday, February 4, and continuing on Mondays and Thursdays through March 28th. The training will be held at the Brasstown Community Center from 9:00am until 1:00pm. A tuition fee of $75.00 will be collected on February 4, to cover expenses of the training and cost of manuals. Along with field trips, some of the topics included in the training will be a fruit tree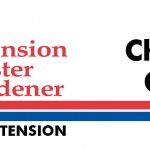 pruning demonstration, a propagation workshop and a Shittake mushroom workshop.
Becoming a Master Gardener not only involves learning about horticluture, but also
carries certain responsibilities and an obligation to donate a certain amount of time back to the community each year through Extension programs. Each trainee will be expected to perform a minimum of 40 hours of volunteer work to be completed within one year following the last core training class. Interest has been high and seating is limited. If you would like to participate in this rewarding and unique learning experience or for more information, please contact our office before January 28, by phone 837-2210 or email at keith_wood@ncsu.edu.
Was the information on this page helpful?
Care to tell us why? Send Explanation
This page can also be accessed from:
go.ncsu.edu/readext?194978